The Edge for March 2017
An Exclusive Article for NJ ChamberEdge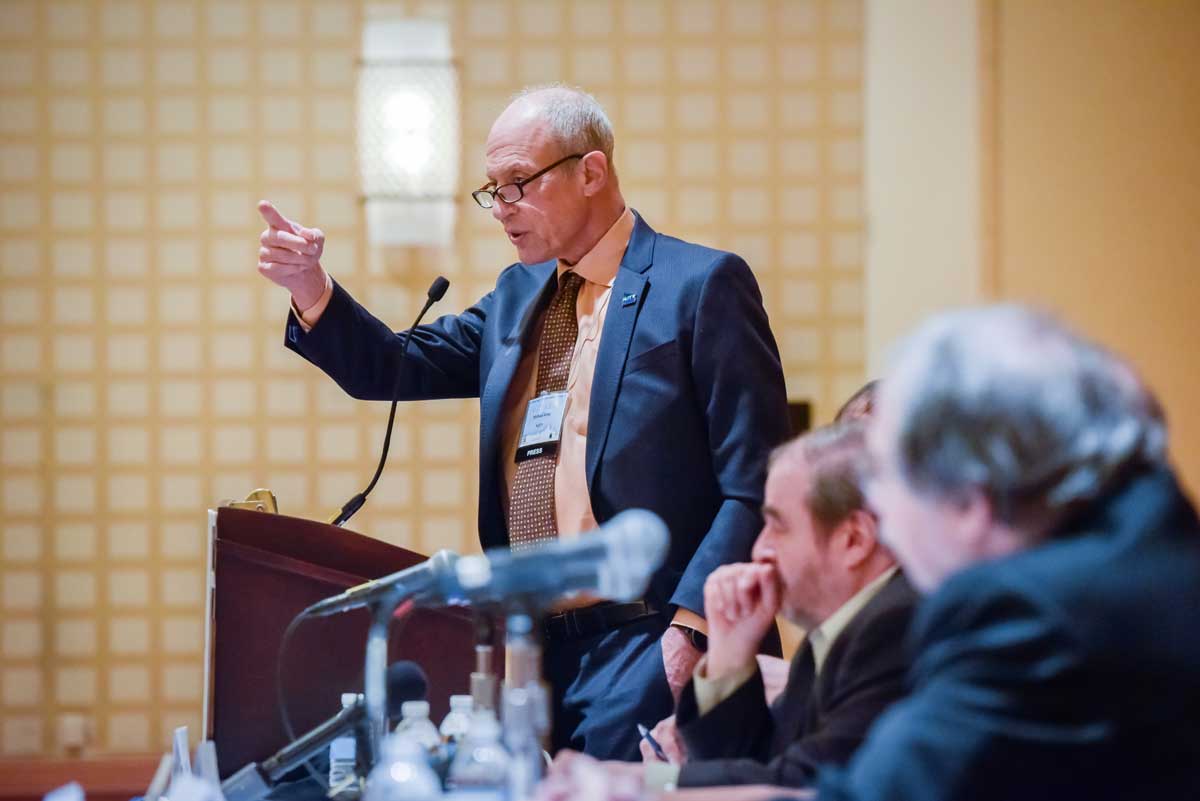 NJTV Chief Political Correspondent Michael Aron hosts the NJ Chamber Reporters Roundtable. (Russ DeSantis Photography and Video, LLC)
New Jersey's Most Seasoned News Reporters Sound Off and Look Forward
It has become a popular tradition at the annual Walk to Washington for the N.J. Chamber of Commerce to present a panel of news reporters, some of whom have covered politics for decades, to offer a candid look at the direction the state is headed - the good, the bad and the ugly.
This year's roundtable, held on Feb. 17 and hosted by NJTV's Chief Political Correspondent Michael Aron, was particularly interesting because it featured a preview of the state's 2017 gubernatorial election; an analysis of the Trump administration's effect on New Jersey, and a look at whether Sen. Cory Booker has the goods to run for president.
THE PANEL
Michael Aron
Chief Political Correspondent
NJTV
Nick Acocella
Editor
Politifax

David Cruz
Statehouse Correspondent
NJTV

Herb Jackson
Washington Correspondent
The (Bergen) Record

Anjalee Khemlani
Deputy Managing Editor
NJBIZ

Jonathan D. Salant
Washington Correspondent
NJ Advance Media/
The Star-Ledger
Photos: Russ DeSantis Photography and Video, LLC
Here's what the veteran reporters are seeing:
Prepare for a gubernatorial election that will likely pit Democrat Phil Murphy, former U.S. ambassador to Germany, against Republican Lt. Gov. Kim Guadagno. But don't count out a run by Joe Piscopo who has better name recognition than the declared candidates and, like Trump, could distinguish himself as an anti-establishment candidate;
Brace for policies out of Washington that could include a $1 trillion dollar infrastructure plan that could be good for New Jersey commuters (perhaps a new rail tunnel under the Hudson River between New Jersey and Manhattan) and health care policy changes that could blow a hole in New Jersey's state budget;
Don't be surprised if U.S. Sen. Cory Booker (D-NJ), who has gained a significant following beyond New Jersey, positions himself for a run for president, as he has begun taking the plastic off a stump speech that is taking aim at Trump.
Be on the lookout for the emergence of a "left-wing Tea Party" which also may be described as "the resistance" that will push Democratic candidates further to the left in New Jersey and D.C.
President Trump and 'His Perspective on the World'
For now, the news is dominated by Trump, as were the conversations conducted by New Jersey business and political leaders during the Walk to Washington, the reporters said.
"The Walk usually has a theme, and this year the theme is Donald Trump and his perspective on the world," said David Cruz, NJTV News correspondent.
"Polling shows he is the most unpopular president in generations," said Jonathan Salant, Washington correspondent for The Star-Ledger and NJ Advance Media. "Only 8 percent of Dems approve. The nation has never been that polarized."
(Note: At least one recent survey showed good news for Trump: An NBC-Wall Street Journal poll found that 48 percent of the country believes that Trump will bring the right kind of change while just 23 percent say he will bring about the wrong kind of change.)
"He ran against someone who is even less popular," said Nick Acocella, editor and publisher of Politifax. "The Democrats seem to be reeling more than the Republicans, and I don't know how they come back."
Herb Jackson, a veteran Washington Correspondent for The (Bergen) Record, said he would not be surprised by the emergence of a "left-wing Tea Party." "The fact of the matter is that the Tea Party movement in 2009 and 2010 pulled the Republican caucus to the right," Jackson said, "A left-wing movement may pull the Democrats to the left."
Sen. Booker for President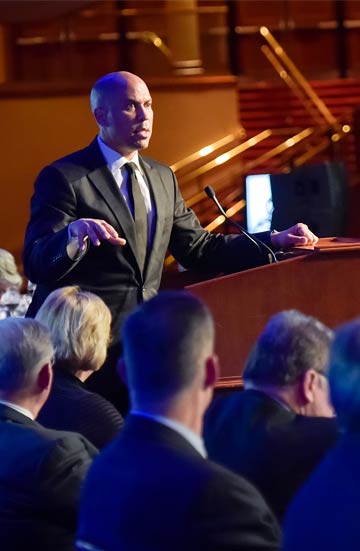 Sen. Cory Booker addresses attendees of the 2017 NJ Chamber Congressional Dinner (Russ DeSantis Photography and Video, LLC)The reporters seemed to agree that Sen. Cory Booker is emerging as a real prospect for president in 2020, and they noted that his remarks at the N.J. Chamber's Congressional Dinner on Feb. 16 had the feel of a presidential stump speech on training wheels.
"He holds audiences spellbound and it resonates," Salant said. Cruz said Booker is "a rock star in the making. If he doesn't run for president, it's a shocker." Acocella called Booker "a prodigy and a talent" with a following that reaches far beyond New Jersey. "Does that translate into a run for president?" Acocella asked. I don't know."
The Next Governor: Murphy, Guadagno or Piscopo
The reporters also assessed the state of the race for New Jersey governor in 2017 and agreed that Phil Murphy is the Democratic frontrunner with support from the state's party leaders and the largest warchest. He is being challenged in the primary by Sen. Ray Lesniak and Assemblyman John Wisniewski. On the Republican side, the reporters said Lt. Gov. Kim Guadagno holds an edge on Assemblyman Jack Ciattarelli. However none were ready to completely dismiss entertainer and conservative radio talk show host Joe Piscopo, who has said he is considering a run as either a Republican or an independent, and could gain traction as a political outsider.
The reporters said they would not be surprised if Gov. Christie lands a job in the Trump administration during Trump's second round of hiring - perhaps as attorney general or chief of staff. "Compared to what is happening at the White House right now, Chris Christie looks like a damn good administrator," Cruz said.
Trump's Impact on New Jersey
As for President Trump's agenda, it will be a rocky road, the reporters said.
Assuming he can get it past Congress, "Democrats are cautiously optimistic" that the president will support a $1 trillion infrastructure program," Acocella said. Such a program can have great benefits for New Jersey, like a long sought after additional train tunnel between New Jersey and New York City.
President Trump's proposed policies on "tax and Medicaid block grants don't bode well for New Jersey," Cruz said. Medicaid block grants would be a set amount of federal money to each state for Medicaid based on the number of beneficiaries in the state.
On another note, under federal immigration policies, Cruz wondered aloud whether the Trump administration would go through with financially penalizing "sanctuary cities," jurisdictions that take steps to shelter illegal immigrants. "If the (feds) try to penalize Newark, is the state going to let it happen?" Cruz asked.
Calls to eliminate, or at least amend, the Affordable Care Act is another issue facing not just states, but also the insurance industry, drug companies and health care providers, said Anjalee Khemlani, deputy managing editor at NJBIZ, "How does the healthcare field prepare for something that is so complicated and so uncertain?" she asked.
The 'Enemy of the American People'
As for Trump labeling the news media the "enemy of the American people," the Star-Ledger's Salant, a Washington-based reporter for three decades and a former president of the National Press Club, characterized it as a tactic that is further dividing the nation.
"The New York Times and the Washington Post are breaking stories about the administration, and Trump calls it fake news," Salant said. "So you are delegitimizing the instrument trying to hold the administration accountable. Reporters are trying to reach an audience that only wants to listen to what they want to listen to. It's not productive. It's not healthy. "